An EU-PolarNet 2 / ARICE transdisciplinary stakeholder workshop to explore research priorities of the maritime industry was held in Hamburg in association with the SMM – the Shipbuilding, Machinery and Marine Technology trade fair – from 6 to 9 September 2022. As part of this workshop, an EU Polar Cluster exhibition stand was open throughout the event. This exhibition stand provided flyers and information on the two host EU projects as well as on Arctic PASSION, for which a large roll-up greeted visitors at the right side of the stand. Representatives of Arctic PASSION at the booth were Anneli Strobel (AWI) and Heïdi Sevestre (AMAP).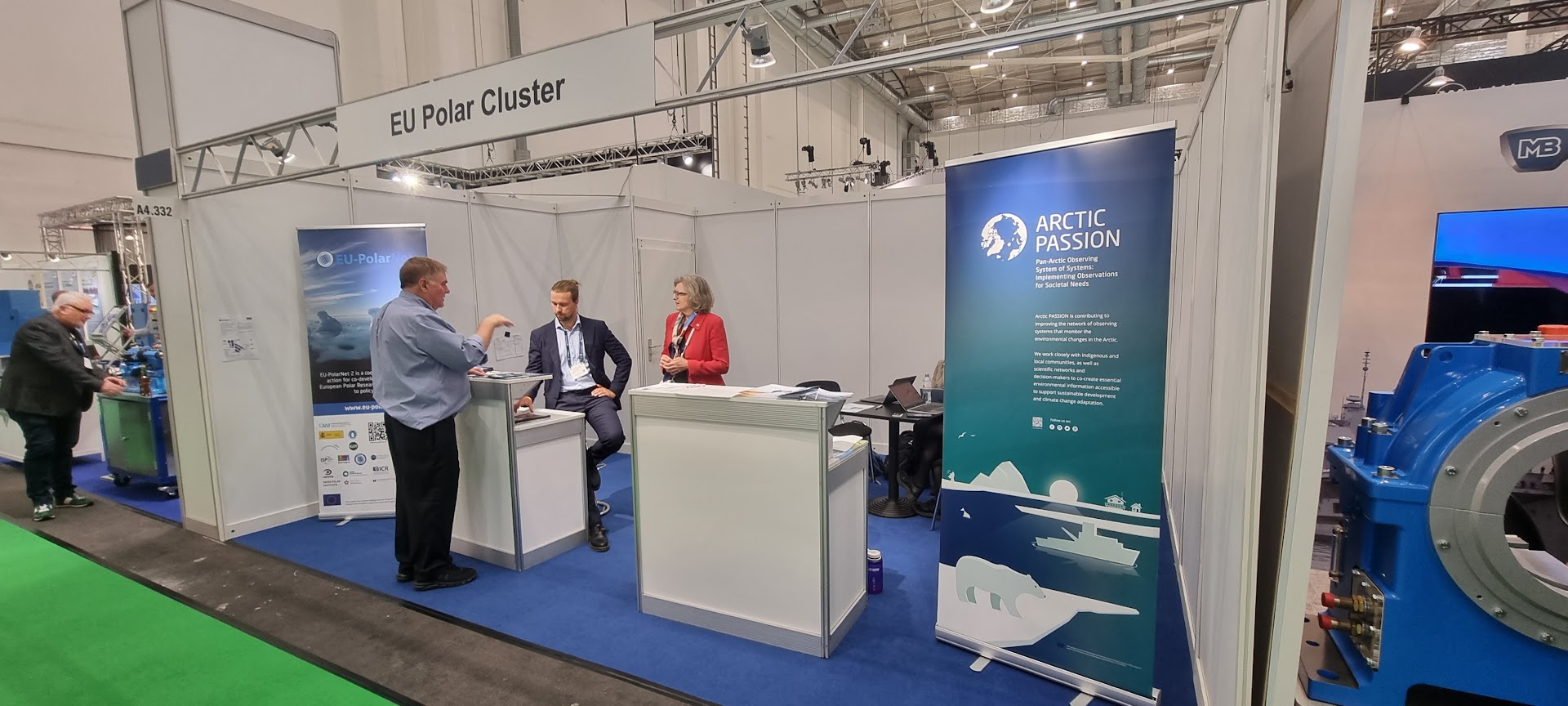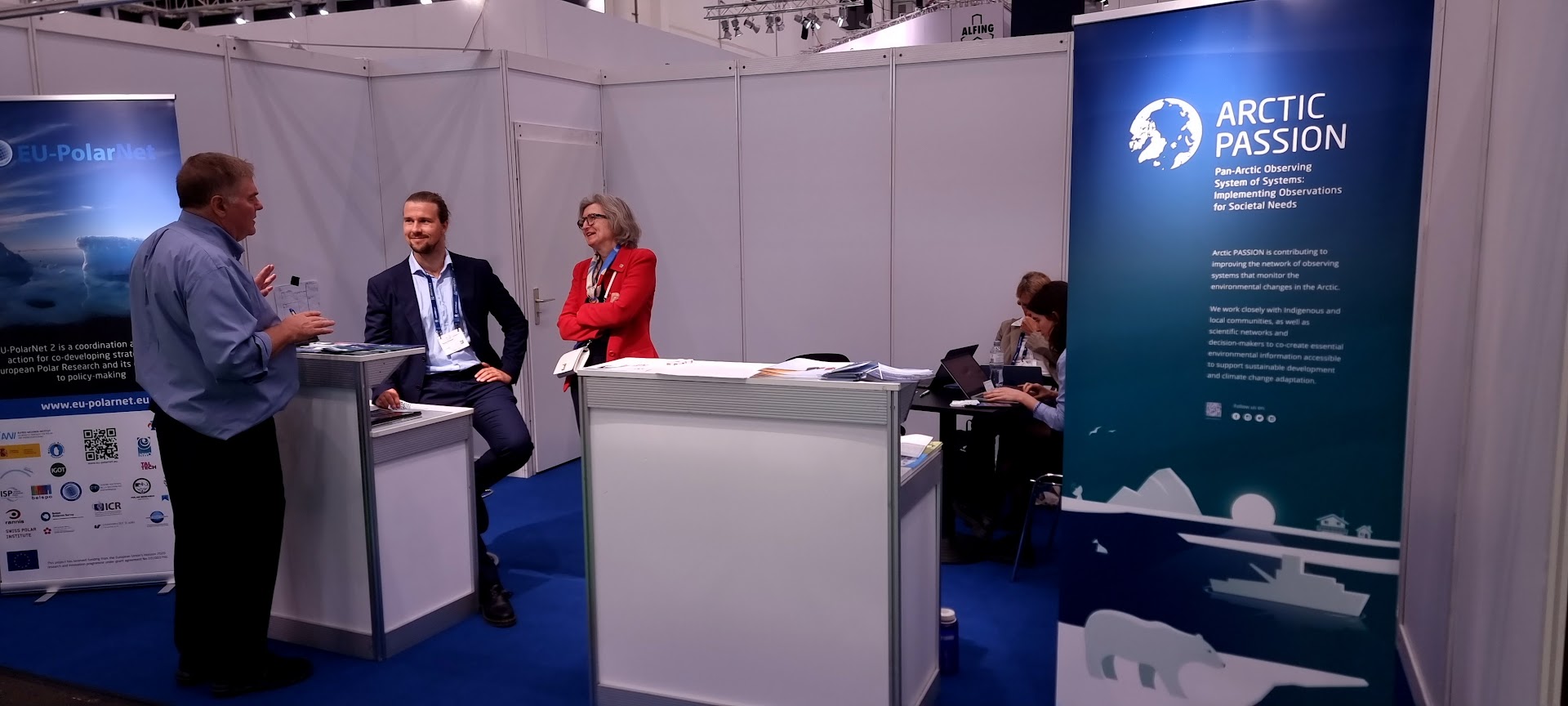 EU Polar Cluster exhibition stand at SMM. Photo by Heïdi Sevestre (AMAP).

In addition to the exhibition stand, a one-hour-long stage session to explore maritime industry research needs and priorities was held on September 8th on the Green Transition Stage. This session featured four presentations relevant to research issues important to the maritime community, including one by Dr Andrew Fleming, Head of Mapping and Geospatial Information at British Antarctic Survey and leader of Arctic PASSION Pilot Service 6 'Improving Safety for Shipping in the Polar Seas'. Dr Fleming stated that the aim of this Pilot Service is to reduce the risk of shipping incidents by improving the application of the International Maritime Organization's POLARIS risk assessment system. Improvements will be co-designed and codeveloped with the Working Group on Protection of the Marine Environment (PAME), national ice services, ship owners and operators, insurers, etc. This comprises four steps: 1) a historical analysis of shipping risk in the Arctic; 2) current risk information to ships at current position; 3) a forecast of POLARIS risk assessments based on sea-ice forecasts; and 4) onboard delivery, visualisation and evaluation of risk assessments. Dr Fleming noted that new tools are being developed to improve the safety of shipping in icecovered waters. He described a new Artificial Intelligence tool, IceNet, which has been developed by the British Antarctic Survey, that can lead to improved early-warning systems for sea ice. IceNet is based on the use of AI techniques to learn how to forecast Arctic sea ice based on satellite data from the past four decades, together with long-term observations of eleven climate variables, results of model runs and other simulations to forecast environmental conditions. An important forum to enhance the safety of maritime operations in ice-covered waters is the International Ice Charting Working Group; this is a working group of the world's national ice services that has been established to promote coordination of operational se ice and iceberg information services and data sharing. It operates a number of task teams to explore in more detail key aspects relevant to safety in icecovered waters. Link to his presentation.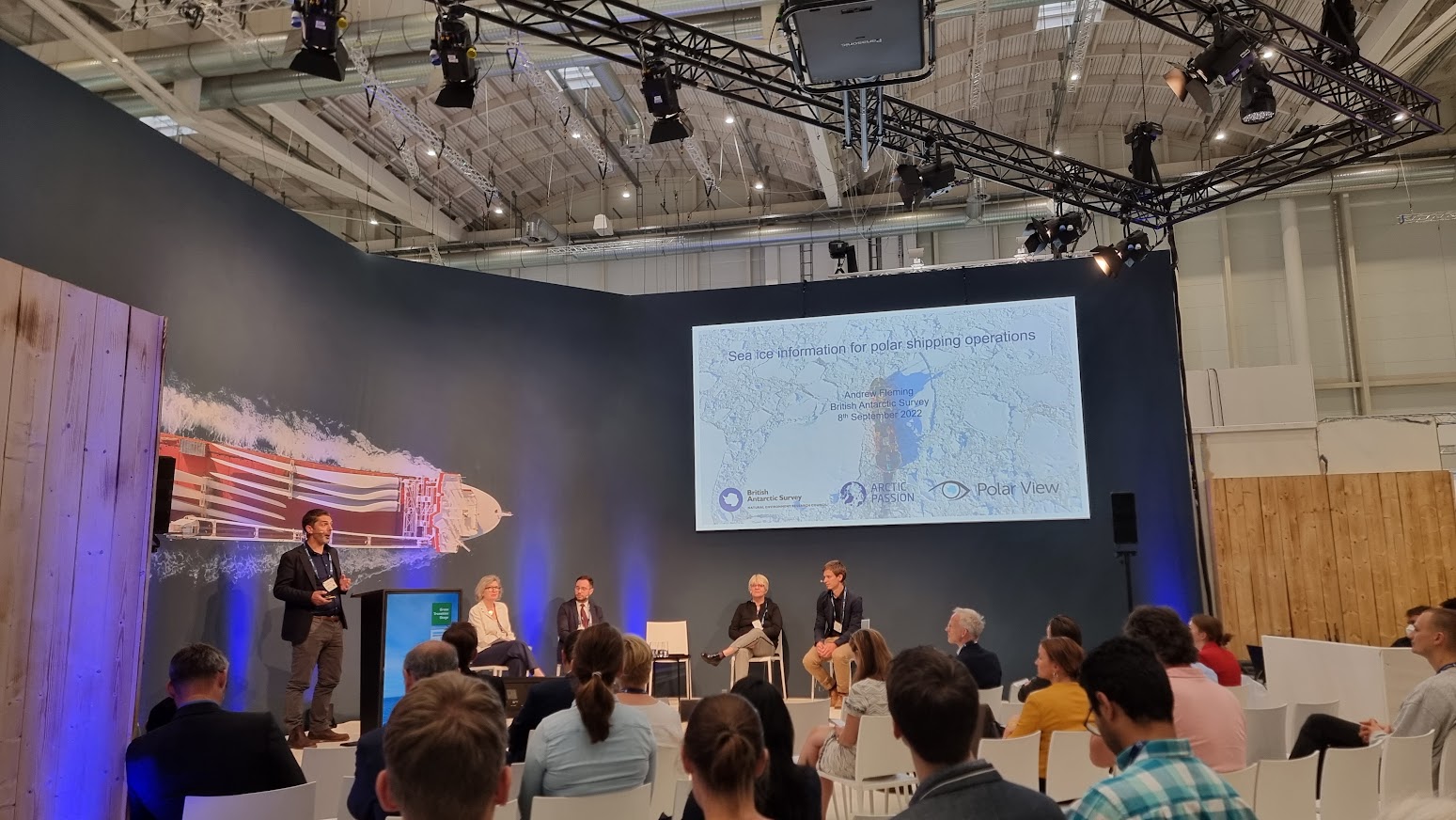 Dr Andrew Flemming presenting at EU-PolarNet 2 session at SMM 8 September 2022. Photo by Heïdi Sevestre (AMAP).